There are some constraints for a Sky Hub enclosure, that require consideration.
One is the option to add a PTZ camera in the future, that will allow for distance and speed calculations and 40x zoomed videos! This feature requires a correct placement of both cameras. We provide details on how to make the build easy.
The other consideration is to have either all equipment in one single box, or to split into a camera array and a (or multiple) sensor array(s).

Example of an all-in-one enclosure "Sky Hub Enclosure v1" without the PTZ (soon come)
For some of the Sky Hub enclosures, you need to 3D print some plastic parts and/or cut some 8mm plastic or wooden sheets. If you don't have access to a 3D printer, people within the community are willing to help. If you don't have access to a laser cutter, you can cut the plastic/wooden sheets by sawing with a jigsaw.
While you can use any type of enclosure you wish, the most important aspects of your decisions should be weatherproofness and resistance to ultraviolet light.
Currently we support 5 types of enclosures (of which 2 in the making):
Sky Hub Enclosure v1 - the "big box"
8mm walls ~$100-200
3D prints ~$230
Sky Hub Enclosure v2 - the "off-the-shelf box"
Box ~$70-90
3D prints ~$200
Sky Hub Enclosure v3 - the "prefabricated big box" (currently under design)
Box ~$100
Sky Hub Enclosure v4 - the "camboard"
Board ~$20
Console ~$30
Sky Hub Enclosure v5 - the "prefabricated sensor array box" (currently under design)
Box ~$70
(costs are ballpark figures and depend amongst others on your selection of material)
You can download the instructions PDF, STLs for 3D printing and DXFs for laser cutting packed in ZIP files here:
The files above assume the metric system, and units of length are given in millimeters. If working with e.g. a 3D printing ensure the STL or DXF files are imported using [mm].
(more pics to come)
Dahua 12MP Fisheye unpacked.


The tower for the fisheye is 3D printed and needs coating.

First you sand down the outer walls of the tower to flatten the surface.
Then take a sealing lacquer and cover the outer surfaces in 3-4 steps - always sanding between the steps.
Finally you take a lacquer spray to give it a nice finish.

Mounting plate for Dahua 12MP Fisheye fixed with 3 screws and nuts.


Dahua 12MP Fisheye finally mounted.


The Fisheye tower is fixed and sealed to the top wall. Make sure, no water can ingress here!


Fixing the doors barriers on the front wall with outdoor glue.


Mount the Noctua fan together with the vent duct onto the Nano.

The rubber strips, that come with the fan, are great for fixing all together.

View through the left door.

ATX-PSU 350W powers all electronics with 5V and 12V with sufficient power for future sensors.
The Nano is mounted on the foundation.
The Noctua fan is mounted on top of the cooling ribs and the vent is fixed to the fan.

View through the right door.

The air intake (right front) is covered with gauze, that is kept in place by a rubber band.
Behind is the 5-port switch.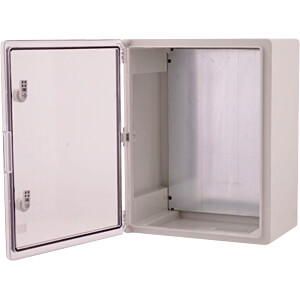 FLT_500400240_TR_01 from Reichelt (EU)

NBE-10563 from Bud Industries (USA)
You can download the instructions PNG and STLs for 3D printing packed in ZIP files here:
Please note that in the files above the metric system is assumed and units of length are provided in millimeters.
Currently under development

A board of coated wood, or any other weather resistent material, is prepared with 10 holes to mount the Fisheye Tower. This and the preset position of the future PTZ camera will allow for measurements like distance and speed of flying objects.
Mount the board on 2 mounting brackets and place it, so that the Fisheye camera has an unobstructed view to the sky.
You can download the drawing packed in a ZIP file here:
Please note that in the files above the metric system is assumed and units of length are provided in millimeters.
Currently under development
¶ Tips and tricks
The largest part to be printed (currently) is the tower mount for the fisheye camera. This part measures 160mm x 85mm. The ATX PSU foundation part is approximately 175mm x 175mm in the X/Y, also requiring a print bed large enough to fit this foot print. This necessitates at least ~180mm x ~180mm print bed and ~90mm Z axis to accommodate.
The choice in what filament to use is largely up to you and your capabilities, however, it's highly recommended that the chosen plastic is weather resistant, UV resistant, and temperature resistant enough to endure hot summer sun.
Best: ABS - Strong and heat resistant. Needs vented enclosure to print safely and maintain temperature during printing.
Good: PET/PETG - Fairly strong and can withstand summer heat. As easy as PLA to print, once dialed in. Requires all-metal hot-end capable of extended 240-250°C or greater temps to print well.
Poor: PLA - Brittle and does not tolerate even moderate temperatures before deforming. Common and easy to print, but does not make strong parts.
Your slicer of choice may have different names for some settings.
Layer Height: 0.2mm or finer
Walls: Use a minimum of 3 lines for walls
(Wall thickness depends on the filament, increasing standard 1mm to 1.5mm makes for more rigid parts and hides infill - recommended for PLA)
Bottom/Top Layers: Use at least 3 layers for top/bottom
(Many parts will have screws/bolts that could crush through a single layer skin into the infill if over-tightened)
Infill Density
For load bearing parts such as wall/corner brackets 100% infill makes the strongest print
Use at least 20-30% infill for non-load bearing parts (Air intake, power network grommets, etc.)
Supports/Orientation
Supports are not required on any parts with the exception of the fisheye tower . This part is best printed with the camera pocket (shallow side) down on the table for minimal supports.
If using ABS or PETG, supports may be required for bolt holes on some parts as these small portions have no material beneath them. If your slicer has the option, print inside walls first so that overhangs can better adhere.